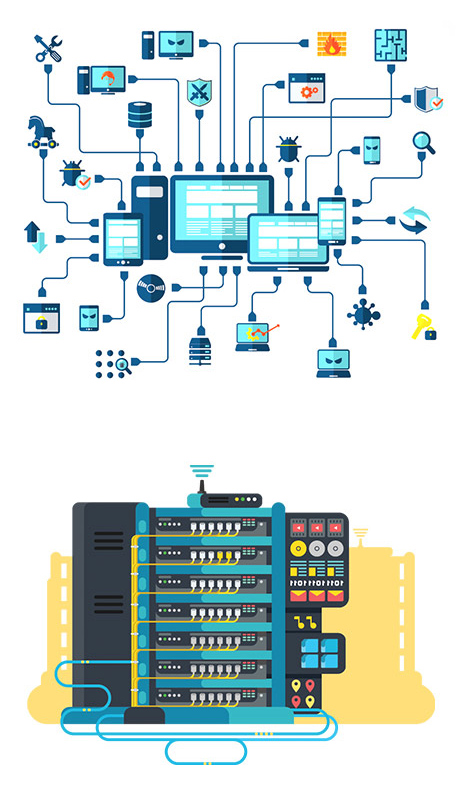 NOC – Network Operations Center Services
New Era Informatique provides Network Operations Center services. The team is not only well trained to manage incidents, but also mentored via continuous review so they become skilled experts in the business. NOC platform securely and seamlessly connects to your infrastructure, providing the most advanced event detection and efficient workflow management. New Era's network, server and application monitoring services provide detailed metrics and visibility, allowing our NOC monitoring team to react quickly and troubleshoot effectively.
Our 24 x 7 NOC infrastructure provides solutions to our clients as the services we extend are built on vast experience, processes, systems and tools – all developed and proven over time. Our various services option is provided with highly effective technical personnel to assist you to manage and run your Enterprise Operations. We also provide remote network monitoring and support. We organize your work to make it more relevant and cost effective. We care to provide that difference.
Our Managed Service Provider helps you to minimize your operating expenses by leveraging our world-class NOC & support services. Our setup is dedicated to provide best possible client support which is essentially needed to grow and succeed in today's competitive market. Having large experience of helping leading companies, we have used our diverse knowledge of technology and customer support tools to exceed client expectations. Our services aim to dedicate its experienced resources by leveraging world-class work-mechanics at efficient costs. Managed by Professionals, we are the right choice solution provider for your NOC solutions.
Below is a summary of current New Era services
Data Center and Systems Management
Provisioning servers,storage, user accounts, applications
Systems usage management/license metering
Application performance management
Capacity and load planning
HPC Storage
SAN, NAS, iSCSI, DAS
Information lifecycle management
Replication and high availability
Remote availability
Archiving and retrieval
Backup
Networking
LAN/WAN/GAN/MAN assessment and design
Bandwidth and traffic management
Switching and routing
Load balancing
Fault tolerance
Wireless LAN/WAN infrastructure
Project Management Services
Primary and functional requirements
Project management life cycle
Project Management Office (PMO) design and training
Portfolio management
Business process re-engineering
Strategic planning
Network auditing
Network architecture and design
Cost-benefit analysis
VMware & Hyper V Server Virtualization
Capacity and load planning
Server consolidation
Test and development environments
Physical to virtual migrations
Business continuity
Data protection
High availability/business resiliency/disaster recovery
Storage management
Server management
Endpoint management
Increased business agility
Enhanced availability and security
Easier OS and hardware migrations
Microsoft Infrastructure
Active directory assessment, design, migrations and maintenance
Exchange assessment,design, migrations and maintenance
Clustering
Systems Management Server (SMS) design and deployment
Microsoft Operation Manager(MOM) design and deployment
SharePoint portal solutions
Desktop & Terminal support
OpenCL & CUDA Consulting
Application performance benchmarking & analysis
Acceleration of applications using GPGPU
Consultation & Optimization of existing OpenCL & CUDA code
Security and Compliance Services
Security/compliance strategy & policies
Intelligent content monitoring
Proxy gateways
Firewalls and intrusion prevention
Data integrity & Encryption
IPSec and SSL VPN
Firewalls, Anti-virus,anti-SPAM
In Addition, New Era provides full on-site deployment services, which include Server, Storage & Networking deployment. We can install and configure your new data center systems to help you save time & money, minimize disruption and optimize performance. Our comprehensive suite of implementation services will get you from PO to Production faster than you ever thought possible.
Project Management
New Era provides a single point of contact for comprehensive planning and execution support throughout every stage of the implementation process.
Planning
New Era fully assesses the technical requirements of your computing environment and creates a detailed implementation plan ensuring a fast, surprise-free deployment.
Installation & Configuration
Once your hardware is ready to deploy, New Era's certified technicians will integrate, configure and conduct a final test & tune to ensure your new equipment is ready to go.
Product Orientation
New Era technicians will provide your IT staff with detailed information about how your new systems and software are designed to operate in your environment so you can keep your data center running at top efficiency.
Deployment Services Process
Security/compliance strategy & policies
Power/Cooling calculation & planning
Rack cabling/labeling/organization
Server, storage, network implementation
Integration testing & troubleshooting
Acceptance testing & training
Performance benchmark & optimization tuning